For adults with moderate to severe Crohn's disease in whom TNF blockers did not work well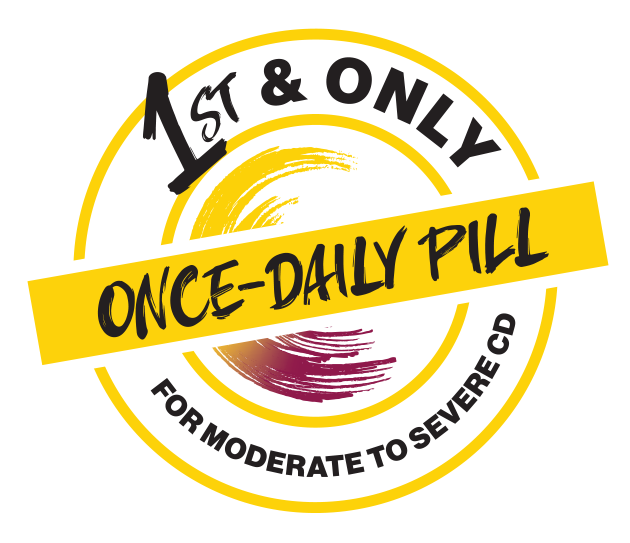 Get rapid symptom relief, including less abdominal pain and fewer bowel movements in as early as 2 weeks
Have the opportunityGet the chance to be in early remission without steroids at Week 12, and achieve lasting steroid-free remission at 1 year
Achieve visibly reduced damage of intestinal lining caused by excess inflammation*
*Based on endoscopy at 12 weeks and 1 year.
RINVOQ is a once-daily pill now approved for Crohn's
In clinical studies,
RINVOQ helped people achieve:
Make sure you get the most out of your partnership with your gastroenterologist. Use our treatment discussion tool to have a more productive conversation at your appointment. 
It's important to talk with your gastroenterologist and consider the benefits and risks of RINVOQ to choose the treatment that's right for you.
Your story can help others
Have you or a loved one been prescribed RINVOQ for Crohn's disease? Share your experience to help inform and inspire people like yourself. To participate:

Get started with personalized support
From helping to find possible ways to save on the cost of your prescription to answering questions about your condition, RINVOQ Complete gives you the support you need to start your prescribed RINVOQ treatment plan.
RINVOQ Complete Savings Card Terms and Conditions
*Eligibility: Available to patients with commercial insurance coverage for RINVOQ® (upadacitinib) who meet eligibility criteria. This co-pay assistance program is not available to patients receiving prescription reimbursement under any federal, state, or government-funded insurance programs (for example, Medicare [including Part D], Medicare Advantage, Medigap, Medicaid, TRICARE, Department of Defense, or Veterans Affairs programs) or where prohibited by law. Offer subject to change or termination without notice. Restrictions, including monthly maximums, may apply. This is not health insurance. For full Terms and Conditions, visit RINVOQSavingsCard.com or call 1.800.2RINVOQ for additional information. To learn about AbbVie's privacy practices and your privacy choices, visit https://privacy.abbvie