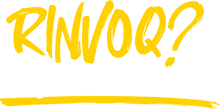 How

does RINVOQ work in the body?
With ankylosing spondylitis (AS), your overactive immune system mainly attacks your spine and may cause inflammation that contributes to back pain and stiffness.
RINVOQ is a JAK (Janus kinase) inhibitor that regulates your overactive immune system to help stop the attack. It works inside your cells to block certain signals that are thought to be an underlying cause of AS inflammation.
Because JAK inhibitors like RINVOQ affect the immune system, they can lower the ability to fight infections and may cause other serious side effects. It's important to talk to your healthcare provider about the possible side effects of prescription treatments.

Read the brochure for more information on how RINVOQ helps treat AS, treatment goals, and the savings program.
Email or download the brochure
See the results of RINVOQ, a once-daily pill
RINVOQ can significantly relieve back pain and stiffness, and improve your ability to do everyday activities.


and talk to your rheumatologist.